She's home! She's Hoooome!!
Momma camed home last night from that tour thing. She said it was all fun and real nice and chilly where she wented. It maked snow where she was and the great big monster with wheels that all the beans were in, stopped working so she helped make it work again. Momma says that it was real nice to purrrform again.
This am Momma's choir. They am all lady beans that sounded really fancy and maked all harmonies and stuff. There am a great big instrument in the back called a bass! But, Momma said that it wasn't the kind of bass I thought it was. She said it isn't the kind that goes swimmie in the water so I don't care so much about it but she says it maked the song sound real good. Momma's friend had an egg that maked shaky noises for this song too...it was a tune you could really tap your paw to.
This am the Dean of the School of Music. He am making those beans honk all kinds of instruments! Momma called it a Quintet but I dunno what that is. It looks like it would have maked my ears hurt a little bit a'cause that one in the middle am really BIG! But again, Momma says that they maked really good music and one song maked your toes tap.
Look! Look! This am Momma's handbell choir! Those beans make the bells ring when Momma waves her hands at them! Momma putted all those shiny lights and bows on the tables to make them look all festive and shtuff. Momma am really prrroud of her handbell choir. They worked real hard on the music and purrformed it to purrrfection!!!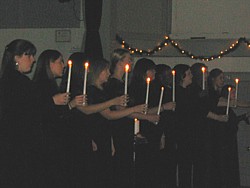 This am the special part of the concert that makes everybean smile and sometimes their eyes make water come out. The lady beans sing "Gesu Bambino" and light candles in the dark! And then they walk around and sing "Silent Night" all around the beans that comed to listen to the concert. The handbells make ringing sounds while they sing and it am all pretty and makes you want to purr.
Oh but this is the bestes picture of them all! Fishies that were in the room where Momma stayed the first night!! Their names are Cheese and Crackers. Momma stayed at a lot of houses that had poodies in them. One was even named Oreo!! He looked just like me but with a little more white on his face. Momma couldn't get him on film. I could smell another poodin's stinky rub on my Momma's box with clothes in it...I have to make sure to put some of my stinky rub back on it later.
I'm so happy to have my Momma home!
Click HERE to go to the most current post.