Hunkerin' Down
Whenever I want to have a real good long nap, I get myself all cleaned up a'cause it makes me all calm and cool. I likes to lay right in the middle of the floor a'cause that way, I can still pay attention to my beans when they am around...sometimes I peek at them and make sure they're ok :)
First I have an after dinner mint...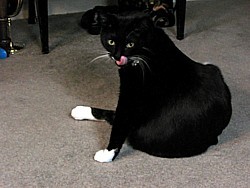 Delish! LOL!! Just kidding, I am giving myself a real good bathing...
Next come my sweet feet. Each paw gets lots of attention.
I even get in the nooks and crannies.
Momma says I make a lot of noise while I clean my tooties...
Now it's time to get spread out and all comfy on the floor.
Momma calls this look "roadkill" a'cause I get so a'laxed that I look like I'm dead! LOL!!
And finally, my "sleeping paw" comes out and I lay my head on it.
Well I think it's time...for....me.....to.....Zzzz
zzz
....
Click HERE to go to the most current post.