Thank You Secret Paw ;)
My secret paw pressie camed today! Know what? It am all way special a'cause today am "Little Christmas". What Momma? Oh. She says shmaybe I should say "Three Kings Day" instead. In our house, we give little pressies on Three Kings Day. But I didn't get anything until the mail came! It was my secret paw gift from
Snoodleroo
!
You know the Three Wise Beans that bringed pressies to baby Jesus? This is the day that we celebrate them doing that. Momma says that the song, "The 12 Days of Christmas" is about the 12 days
after
Christmas and represents the Three Wise Beans bringing pressies to Baby Jesus. It's a'cause of them that we give pressies to each other at Christmas! Know what I learned? The song, "The 12 Days of Christmas" is all about the Christian faith as well as counting the 12 days after Christmas. Momma says if you want to read more about the song, to go
HERE
. I thought it was neat ;) But wait, I'm getting
way
off topic! I GOT PRESSIES!!!!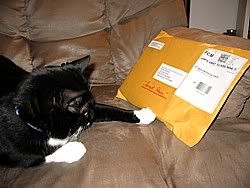 Snoodleroo was my
secret paw
and gived me a really nice package to open. I could hear somethin' jingling in it...I pawed at it really hard. Then I stood on top of it and started digging but it didn't work... So, I had to ask Momma to help me open it. She gotted the big scary scissor thing that make snippy noises but I was real good and stayed clear of them. Once she got the package open, I dove right in...literally!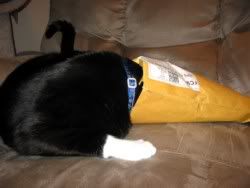 Oh it smelled SOOO good in there! I could smell some good nip and it took effect right away!
I gotted a red mousie that I named Clifford a'cause he am big and red. He smelled oh so good. I kept hugging him and putting him up to my nose...he's got some good nip in em ;) Oh and look at the yummy treatsies that I gotted! I put my stinky rub all over the bag! I liked the picture on it too a'cause it am a tuxie like me!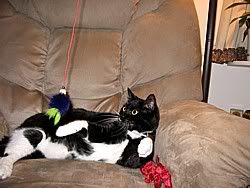 Oh, I didn't tell you about the really cool fuzzy jingly string thing! Momma says it reminds her of a fishing pole ;) She says she can go "CAT fishing" now... Har Har Momma. I'm laughing sooo hard. NOT! Oh so anyway, the string am all stretchy and makes the fuzzy jingly thing go way fast in the air! I jumped really high to catch it! Three times in a row! Momma says she hasn't seen me get this a'cited over toys in a while!
Thank You Snoodleroo! You maked my day so happy! I can't stop purring!!!
Click HERE to go to the most current post.