Thanks Beau and Beau's Mommy!!!!
I just loves my toys! It was so very nice of you to think of me on balentine's day!I loves my new mousie and ballie but mostest of all, I loves my new nip pillow!!!
Momma says I loves it a little too much. But she also says to thank you a'cause I stay out of her hair. I dunno what that's 'upposed to mean a'cause I NEVER go IN her hair in the first place!!! (Don't mind Momma, she am crazy...but she loves her nice candle!)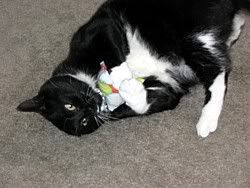 Momma's camera am all better! See how much I loves my little pillow?!
Here I am! All nipped out.
Click HERE to go to the most current post.