Bizzy Bizzy Bizzy!
I hasn't blogged in a turribly long time! I'm very sorry 'bout that but it's just been bizzy around here! Momma has been having so many concert things with all her beans that she hasn't had too much time to sit still and help me blog! She even taked some of her beans to a place called Great Adventure. It am a place that's also called Six Flags. I dunno how it can have two names like that but whatever. I wanna share some pictures of Momma and some of her beans...
This am some of the beans that Momma wented to the park with. They all have the same shirt on! Guess who maked it!? Mine Auntie Deb! It am all way fancy looking. They looked very smart in that shirt!
Here am mine Momma with the two other music beans she works with. She's next to a great big duckie! Him am a famous duckie...do you knows his name? Oh!! And there's a bunny too! That bunny talks funny.
Momma taked her jr. high band beans to Great Adventure. They purrformed and gotted third place. After they played for Momma, they gotted to go in the park and ride on some great big fast things! It maked them scream real loud and laugh real hard. Momma and her two music bean friends gotted to a'lax and watch the rides. They all wented on one called a ferris weel but I don't think you'd get me on one! It was so way high up in the air that Momma gotted some nice pictures of the park. Here's one:
What have I been doing while Momma's been so bizzy? Well, I've been bizzy too. It's Spring and that means a lot of open windows and good fresh air. It also means that Momma's been giving the birdies more food so that they come and visit more often! I have been keeping a close watch on our birdies this Spring a'cause we have some great big hawk birdies that like to eye mine friends out there. I enjoy watching them eat and sometimes I even get so a'cited to see them I chitter... so the last thing I want is for a great big birdie to come along and eat em up!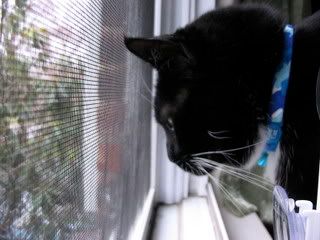 I've also been to see mine favorite Grammie in the whole wide world. She's been all way bizzy making crowshay things for beans. She maked so many blankets that I can't a'member how many she maked! Her nurse told her she's not allowed to make any more and give them away. She said Grammie could make a lotta money with the fancy blankets she makes. 'Specially a'cause they're made by Grammie! So, with all her strings she gotted from a very kind bean (you knows who you am!!) she's been making lotsa blankies and when she's not doing that, she visits with me! I don't have any updated pictures of us though... methinks I'll have to make Momma bring her camera next time we go. We'll purrobbly go tomorrow :) I can't wait!!
Click HERE to go to the most current post.