HAPPY PURRTHDAY GRAMMIE!!!!!
Here I am singing a song for you! I've been taking lessons from Momma so I can sing real good for you!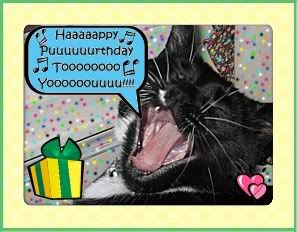 Grammie, I loves you oh so much! I loves you a'cause you give me treatsies when Momma isn't looking and you let me drink cold wa-wa when Momma says I shouldn't have any. I loves you a'cause you gives me my breakfast real nice and early but mostest of all, I loves you a'cause you loves me!! I hopes you like your big surprise that Momma and me have been working on!
H
a
p
p
y
P

u

r

r

t

h

d

a
y
G
r
a
m
m
i
e
:)
::UPDATE:: Psst...if you wanna say happy purrthday to grammie, you can go visit
her blog
! She has a picture of all her cards and gifts there! She loves her surprise from all y'all!
Click HERE to go to the most current post.