My Valentine from Auntie Deb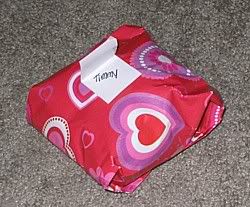 It smelled divine! I almost eated the wrapping paper!!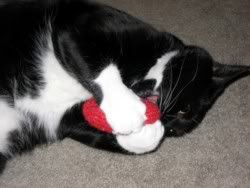 Once it was open, I put it right in my mouth! I took a deeeeeep breath in, oh it was NIP!!!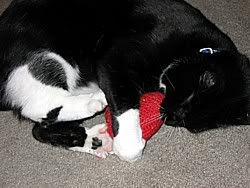 Then I did some kick-kick-kicks on it...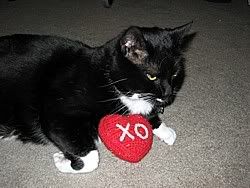 Then I gotted all tuckered out a'cause I played so hard.
This am a video of me with my toy that Auntie Deb maked for me. She maked it with a silly stick and string...and NIIIIIIIP! It might take a while to watch if you have dial-up like we do. Blech I poop on dial-up!!
Oh Auntie Deb, I loves you so much!!!! That special heart maked me purr a lot and do kick-kick-kicks and make silly noises in my mouth and I snorted lots. Ya know, a'cause I breathe funny. Momma and Grammie liked to watch me play with it. Momma says she'll have to put it away so I don't a'come a nip junkie. My friends Beau and his Mommy gaved me a nip toy too so I'll have to share my time a'tween the two ;)
Click HERE to go to the most current post.