Many Thanks!
Oh how very a'citing! I knowed that mine patience would be a'warded! I watched at the window everyday for the mailbean to bring me a special gift! Today it was out there!! I could see it with my eye things!! I was so a'cited that when Momma bringed it in the house, my tail thing quivered like crazy! She tolded me it was from some dear friends down south,
The Feline Oligarchy
!
Oh aren't they a good-lookin' bunch!? There's, Alberta the calico, Sky the sorta tuxie, Blackie with the softest of fur, Charlie girl with the real long name and in the middle is wee little Maggie Fu! Isn't she cute?! They sent me the most lovely secret paw package!
I'll show you my pictures in the order that they happened. Momma was kind enough to take them of me opening my box...which by the way, I totally fit in after it was empty!! Momma couldn't get a picture of it so you'll just have to take my meows for it. She says I looked awful silly in there all smushed in...anyway, on with the pictures!!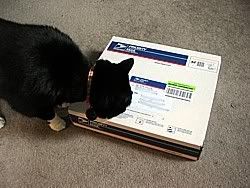 Here I am sniffing mine package! Oh I knowed it was for me right away! Momma called my name and showed it to me! That's how I knowed!!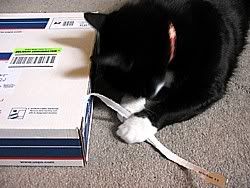 Lemme just follow the directions here..."
pull tab
" well, how 'bout "
Yank Tab with Teethies"
!?!?!? LOL!
::
sniff-sniff
:: oh boy it smells all way good in there! C'mon Momma! Help take out the shtuff with me!
Oh! OH!!! I don't know who was more a'cited, me or Momma! She says that the cat dancer (the rainbow string) is one of they toys she has always wanted to get for me, but could never find in any of the stores around us! It's soooo much fun to play with! (Momma says thank you!!!)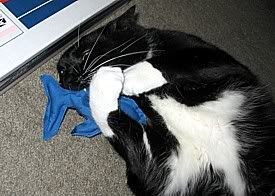 Hey! This one am from Florida!!! It says so right on it!! A fishie dolphin from Florida...it smells like the most divine nip my nose thing has ever sniffed...watch as I sink my teethies into it...RAAAAWRRRR!!!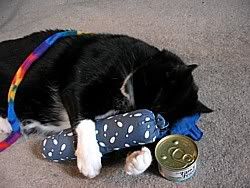 This cat nipper is so cool! I can hug it and sniff it and kick-kick-kick it! See? It smells like nip too :) Oh and shtinky goodness! It's the bestest kind, Grilled Tuna and Salmon!!! Oh you guys sure did know JUST what to get me!!!
This is what the world looks like when you're nipped-up on divine Florida Dolphin Nip and playing with a cat dancer...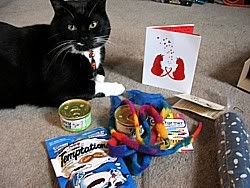 Thank you SOOOO much for my secret paws package! I love everything I got! Momma says the temptations are gonna have to go hidey a'cause I'll eat the whole bag of treats in one sitting...but...I don't know what she means by that...nope...not at all.
THANK YOU FELINE OLIGARCHY!!!!!
Click HERE to go to the most current post.