Momma's Weekend
Momma wented on so many metal birdies this weekend and eventually, one brought her to Grammie's bestest friend's home in Row-an-Oak, Ginger. She was all way a'cited to get there and meet Aunt Judy's doggie, Molly! Momma says she was a great big fluffy polar bear! Methinks she has kind eye things: Molly am an old lady and has real stiff legs but Momma says she looked cute waddling around the house. She gets all kinds of neat treatsies like peanut butter lollipops for doggies, snausages and crunchy bones. Molly was the hostess with the mostest, and so was Aunt Judy :)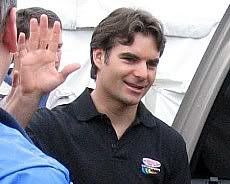 On Sunday, Momma wented with Oreo's Mommy to Martinsville Speedway to watch the NASCAR monsters with wheels go vroom vroom around a great big paper clip! A'fore the race started, Momma and Oreo's Mommy gotted to see Jeff Gordon! Oh Momma was so very a'cited! He talked about all sorts of things and said he am gonna have a little girl bean with his wife, Ingrid. Momma says he am ittum bittum and that makes him fit in the monster with wheels better. He camed out of the tent and waved and Momma got a good picture of him! Here's his COT on the racetrack:
Momma and Oreo's Mommy tried to get on the talking box for all of the beans at home to see. They wented over to where the Speed Channel was taping live. She gotted to see Kenny Wallace who maked the crowd cheer all way loud and gotted them all a'cited. He's the one on the right... A'hind them, you can see a great big Grampa clock. That's the award that the winner of the Martinsville race gets...isn't it cool? Jimmie Johnson gotted to take it home but methinks I hearded something 'bout him giving it to his Daddy instead of keeping it for himself. What a kind bean!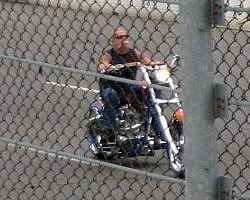 Auntie Deb would be oh so a'cited that Momma got to see Mr. Tuttle and his loud bike as it rumbled by... He maked this bike for Tony Stewart and when he camed by, Momma could see his big muss-stash blowing in the wind! Tee-hee!! Look at how very serious he looks...shmaybe he needs to smile a little bit more!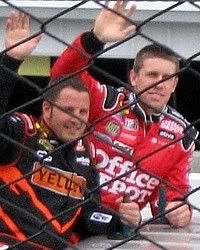 When the driver beans gotted introduced, they came around in trucks and waved...here am Momma's favorite bean, Carl Edwards!!
Here am the view of the third turn in the paper clip track. Momma says that when the monster with wheels came around, it was so loud, you could feel it in your bellyHow fun!!! She says she's glad she gotted buy a pair of earplugs a'cause she wouldn't be able to hear me meow at how happy I was to see her when she got back :)!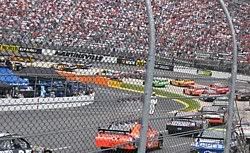 Momma says she sure wished she lived closer to Oreo's Mommy a'cause she hadded so much fun with her all day long! They laughed, gotted all muddy and dirty and yucky and screamed real loud and took lotsa pictures and bought lotsa shtuff and just had a really really good time together! They even got to see some redneck fighting which maked them laugh all way loud together.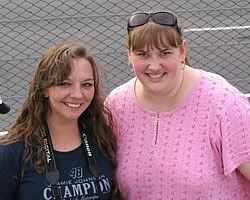 Momma says that Oreo's Mommy's monster with wheels was all way cool and maked the bestest rumbly sounds...did you know that she knows how to make it go all way fast on the racetrack like the NASCAR beans? She does! Momma sawed a picture of her doing it and it was so cool...I sure wish I could have seen it myself, but I was busy enjoying my own bacation. I gotted to have my fur brushed and I listened to jazz mewsic and got to hang out with all the kind beans at my vet's place. It was all way fun, but the bestest part was when I got to go home with Momma :) Methinks I'm gonna go curl up on her lap and have a very purry good nap!
Labels: nascar
Click HERE to go to the most current post.