Shopping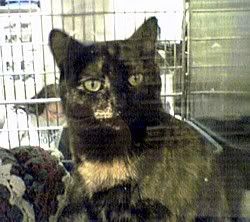 Momma taked me to PetSmart yesterday and it was fantastic! We always go and say hello to the poodins that are waiting for their forever home. On this visit, I falled in love with Patches. She had deep green eye things and her fur was so fancy looking. She's all way petite and I liked watching her a lot. She put her paw on the glass and I put my nose thing up against it. We did a lot of love-eyes at each other. Then I noticed that we were near my favorite part of the store...the furniture!
I climbed over them and meowed the whole time! Then it was on to the stinky goodness aisle. I was so excited to help Momma pick out my food. I purred all way loud and put my shtinky rub all over the cans. Them am mine now. After we were all done there, Momma let me watch the birdies for a while. I loves to listen to them and make my eye things bug outta my head!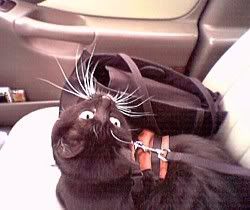 Once we gotted back in the monster with wheels, Momma went to get some lunch for herself. I did a turtle and got to snack on some treatsies she got for me at PetSmart. They were divine. But what do you suppose maked me look up at the sunroof like this??? You'll have to read my latest Wildlife Watch Report to find out!
Labels: PetSmart
Click HERE to go to the most current post.