I'm Bringin' Sexy Back
Dear Riley and Bonita, the most kindest of cousins I ever had...what Momma? They're the ONLY cousins I ever had?? Oh. Well, still. Them am all way kind. So I wanna say thank you so much for my warm blankie that Auntie Deb maked and you gived me for Balentimes Day. I loves it. See?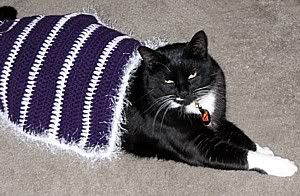 I look like Justin Timberlake in it. I am indeed bringin' sexy back. Hubba Hubba!
Click HERE to go to the most current post.