SNOW!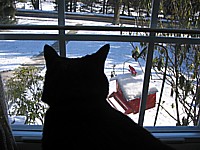 I want to wash my hands, my face, my hair with snow...
When we woke up this morning, there was that puffy white stuff all over the yard again! Then this big monster with wheels came and pushed all the snow around!
If that wasn't enough, a bean got out of the monster and brought that funny noisy thing that scared all the leaves away. This time, he scared the snow away!! But, only on the sidewalk. It was real strange. I got a little scared but Mommy put her hand on my back and then I was ok.
Then the bean got back in the monster and went away! Now our yard looks real nice and if beans need to visit, they can!
Click HERE to go to the most current post.