Here Comes Santa Claus!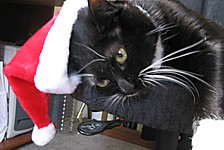 Santa Baby... leave some catnip under the tree, for me.
I've been an awful good cat, Santa Baby.
And hurry down the chimney tonight!


Did you know that you can track where Santa has been and where he's goin' on the internet?!
I already saw him! Check out my
wildlife watch
to read my report!
Click HERE to go to the most current post.