A nice surprise
Oh joy and rapture! My Auntie Wanda came over to visit me today! She loves me so very much :) Auntie Wanda tells me all about her poodie tats and doggies. She says that her poodies are all smaller than me and that each time she sees me, I grow some more! I'm a big boy!!
Auntie Wanda came over to take some of our branches from the pine and fir trees in the yard. I put my leash on and made my way outside with her to inspect the progress. She cut lots of nice fresh smelling greens that she said she was gonna use in church for a party tomorrow. She decorated and made it look all nice for the party after the choir's cantata (so Mommy said). Auntie Wanda likes to sing in Mommy's choir lots. Mommy says that she sings real nice and smiles all the time when she sings (not like Mommy, she's too serious). I like to sing too but only in my head.
Auntie Wanda loves me so much that she kissed my little toes and belly all day long. Every time I would walk in the room, she would pick me up and hug me. If I had a nickel for every time she kissed me today, I'd be a rich poodie tat!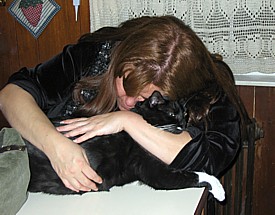 Auntie Wanda and me
Click HERE to go to the most current post.