Something Strange and Unusual
I asked Mommy to take a picture of these unusual lights that appeared a few days ago. I have been watching them and really truly don't know what to make of them. They come on at night and when Mommy and I go to bed, they go out! Maybe they go to bed too?? All I know is that when I wake up, there are still there! One looks like a tree, three look like the deer that visited the yard earlier this year and then there's this unusual one in front of my window...it looks like a person with a trumpet but...the person has wings like a birdie! I just need more time to think about this stuff...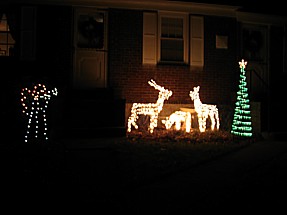 Strange Lights
Click HERE to go to the most current post.