To Poodies, with Love
I was so sad to hear about KC loosing his beloved lint ball, Gretta. I asked Mommy to make him a nice mousie like the one I have and she did! In fact, KC's is nicer than mine a'cause it has a pink nose and eyes!. Mine is all one color but I love it so much. I like to wake up early and play with mousie before the ladies of the house get up. Good fun!
Once KC's new Gretta got packed up, we shipped it off to Catifornia with some nice treats for the other Catizens. I helped Mommy pack the box of course. She watched me like that
Cooper's Hawk
that was watchin' Larry. She made sure I didn't chew the bag or try to enjoy the treats we sent. Hope KC likes his gift :) Maybe we'll even get to see him with his new Gretta as soon as he gets better! Get well soon KC!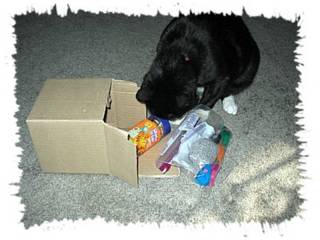 Packed with TLC
Click HERE to go to the most current post.