My visit to the bank
Gramma asked Mommy to go to the bank today and I got to go along for the ride! I got my harness on and headed to the door. I didn't realize how
cold
it was outside! Maybe I should ask Mommy to play with those silly sticks and make me a coat! LOL!! Just kiddin', I am quite content with the coat I came with :)
When we got to the bank, Mommy put her paper into a strange box. Then the box closed up and a lady said hello to Mommy but I didn't understand how she could do that a'cause there was an invisible force field between us! She's magical or somethin'... Then, when the box opened up again, Mommy took papers out and the lady said hello to me through that force field. This intrigued me so I stood on Mommy's lap and looked out her window at the lady. She liked me so much that she called the other ladies over to look at me too :) I know...I am a handsome kitty but my goodness!
Then the coolest thing happened! That box opened again and Mommy took out another paper and inside the paper were my favorite treats! That box gave me treats!! I was so happy I purred and ate some of them in the monster with wheels. Mommy said it was because she has a nice bank. She says that Buffy, the doggie that used to live here before me, used to get treats when she went in the monster with wheels too! I agree with Mommy...that bank is very nice!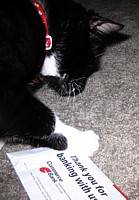 bank withdrawl
Click HERE to go to the most current post.