The Latest Scarfie
I've decided to become Mommy's model. The benefits are good and I like the pay (more pessie in the morning). Like the song says, "I'm a model ya know what I mean and I shake my little tush on the catwalk..." and I'm too sexy for this scarf: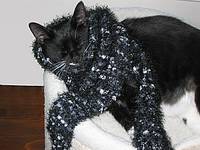 Now this one, I really like! I curled up in it and purred a little because it was really warm. It's fuzzy and has black and white chunks of thick yarn going through it. The brand name is sullivans. You can find nice patterns for free from their website:
http://www.sullivans.net/mainPattern.cfm
good stuff! Then you too can play with silly sticks like my Mommy does all the time! LOL Maybe you'll have better luck pawing and chewing at the yarn!
Click HERE to go to the most current post.