Will the real Timmy Please Stand Up?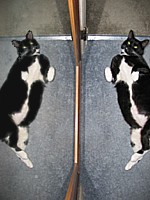 Which one is the real me???
I like to sleep in front of the basement door where the mirror is. This lends itself to many pictures of me and my stunt double :) But which is which??
Mommy took me to the store today with my friend Jo :) She's real nice and pets me a lot. She talks about her poodie tat, Bailey. I've never seen him but he sounds nice. Mommy made him a catnip toy once and he sent us a card to say thank you. I got new crunchies, Pessie and pounce treats that are tuna flavored like the ones that Larry eats. They're yummy! Gramma already gave me some because I was such a good boy in the monster with wheels.
Now, Mommy's watching that talking box and she's really excited again. Those monsters with wheels that she watches are on again and she was all happy about that one with the 24 on it a'cause it was in first place but then she got real sad a'cause he lost his position and ended up in third...She says that "24 car" (whatever that means!) is her favorite. But deep down I know that I'm her favorite!
All those monsters were going round and round...pish posh! I can run round and round too! I'll show her! VVvvrrrooooom!!!! Here comes Speed Racer!!
Click HERE to go to the most current post.