At the park
Mommy had to go to the bank early this morning so I decided to keep her company in the car. When we were done, she took me to a place called the park. I didn't get out a'cause it was so very cold outside of the monster with wheels but I did get to look around! I saw lots of beans walking doggies at the park.
The doggies were all very happy to be walking so fast with their beans :) I was just happy that I wasn't a doggie a'cause I wouldn't want to have to walk around a pond in the cold weather.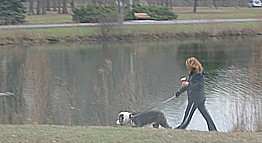 Very happy doggies walking with their beans

When the doggies went by, it got all quiet and then a seagull came! I was so excited to see this birdie a'cause I've never seen one before and only heard Mommy talk about them.
This one kept watching the car a'cause he thought that we were going to feed him some bread! LOL Silly Seagull! If he only knew...if there was any bread in the car, I would have already eaten it! Bread is one of my favorite treats. Gramma sometimes gives me a little tiny bit of her bread from her sandwich at lunch.
When we lef the park, Mommy had a special surprise for me! But...I'll leave that for another post! Stay Tuned!
Click HERE to go to the most current post.