Gettin' Ready!
It's almost Christmas! I'm so excited an can hardly contain myself :) I've been running all over the place! I found Mommy's stash of new stuff in our bedroom. I don't understand why she hasn't used anything she bought yet...it's still in the bags she bought them in! And they've been there since the day after Thanksgiving. It's really nice stuff too! She said not to touch it and that they have to be wrapped. I don't get it!
So anyway, since it's almost Christmas, I thought I should get myself all cleaned up for Santa's arrival. Here I am gettin' all ready for Santa!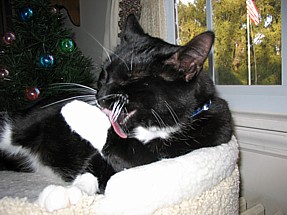 Gettin' ready for Santa!
Click HERE to go to the most current post.