I love gifts!
I got so excited to have presents from Colorado that I could hardly contain myself!
I had to open them ASAP!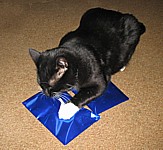 What did I get from Riley dog?!? What could it be???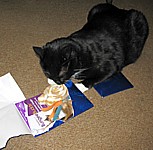 A bungee and a catnip-filled mousie Yipee!!!
Bungee Baby Bungee...Yeah! Oh my new mousie smells DIVINE!
Thanks to you, Riley, it will be a Very Merry Christmas!
I wuv you and I hope you like your Christmas Sweatshirt! Be sure to shake yourself a lot a'cause the jingle bells will ring and it will make your beans laugh!
Click HERE to go to the most current post.