Summit Meeting '05
It is a well known fact that
Tangie
and I don't get along very well. Since it's a new year and all, I decided to be a good poodie tat and talk out our differences with him. I took the opportunity to discuss these matters with him while he was getting his cage cleaned...
Mommy
decided it would be best to have a mediator so she offered her services. Tangie was reluctant to talk at first but...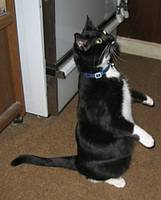 with some begging, he came around.
I told him he smelled divine and was looking very good with all of his new feathers coming in. He told me that I was looking rather dashing myself. I said that I would try to leave him alone while he was taking a bath and he promised to keep his fat jokes to himself. All in all, I think our meeting went well!
Yes, our talk went
very
well indeed.
Click HERE to go to the most current post.