If you wanna fresher house...
I watch the talking box with Mommy sometimes. One time I sawa commercial for "
Fresh Step
" kitty litter. This is the brand that I like to use a'cause it's the bestest :)
So like the song says, "
If you wanna fresher house, raise your paw!
"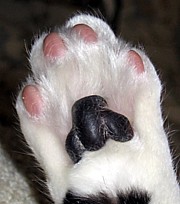 And...they have a program where you can collect
paw points
and get stuff for it!
We've got a lot of points added up and I'm gonna go look and see what I can get for free!!
Click HERE to go to the most current post.