My searching pays off...
I know you're thinkin'...
Two posts in one day?!
Well, sure, why not?
Did you know that I'm part of a search and rescue team? Yeah! just like my
Uncle Gene
! Only, I don't like metal birdies so I don't do that part. Mommy comes along with me and I show her where to look. She brings along her special search and rescue stick and we go to work! Most of the time, I make her look in Gramma's bedroom a'cause her furniture likes to eat up my toys. Then, it's on to the kitchen where my go-get-it balls hide under the cabinet.
Mommy gets down on the floor and I can sniff her hair :) It usually smells like flowers. She puts the stick underneath the furniture and swishes it around. This is the most exciting part! I make myself real low to the ground and put on my big black eyes and force my whiskers forward. I watch that stick like a hawk until it comes out! Well, this last search and rescue mission was very successful! I found
seven
go-get-it balls (some are from my
Catifornian
poodie friends) and some are from Mommy. There were also two hairties! One was in the bedroom and the other was in the kitchen!
I was so happy to have all my toys back. I always make sure to thank the stick for help in the missions...Mommy puts it on the ground and I put my stinky rub all over it and give it a few head-butts. It's my way of saying thank you for all the help :) Here I am posing with my latest find: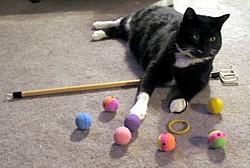 I have a hairtie on my paw :)
Click HERE to go to the most current post.