Oh what fun!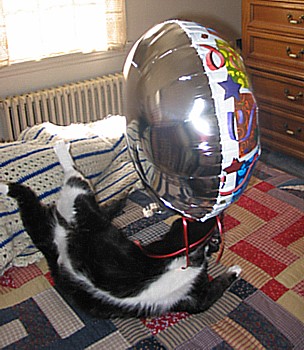 Look Look! I am playing with Gramma's a'lloonie! Oh it is so much fun! Mommy took this picture of meand Gramma on her bed. I was showing Gramma how to play with that a'lloonie real good. The string was all wrapped around me and that a'lloonie kept trying to get away but I made sure it came right back to me! Oh it was great fun! See? See my belly all up in the air? Was in the middle of a big stretch and a kick at the string! You can see my mouth is wide open too!
After playing with that a'lloonie, I was all tired so I took a nap. That made me all rested up so I went and found the mousie that my cousin Riley dog gave to me for Christmas. It has catnip in it and you know what happens when we poodies get some good kitty crack! I was all nipped out and buggie-eyed and that's when I heard Tangie takin' a bath! That's what I'm lookin' at in the next picture...Tangie was takin' a bath right above my head! Oh what a morning!!!
Click HERE to go to the most current post.