My visit to PETsMART!
On Sunday, I didn't get to write about my outing so I'm gonna do it now. I got to go to
PETsMART
with Mommy! Oh it was very much fun! I put my special red bow tie on a'cause it was close to Valentine's Day. Lots of beans came up to me and said I looked handsome. One old bean man whispered in my ear that I looked just like Frank Sinatra! What a compliment! He was real nice and gave me pets too!
Now my pictures are real fuzzy a'cause Mommy used her strange thingy called a cell phone. She says it's a'cause the lighting was bad. Hmph...I just think it's a'cause she tried to take a picture of me in a store with a silly phone! I've seen her talking to it. That whole cell phone thing is a mystery to me! So anyway, here's my pictures: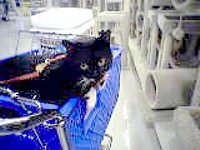 Hangin' out in the cart at PETsMART with Mommy!
Mommy let me get on this big condo! It was really nice! I asked for it but she said it was too much money (whatever!) and that it wouldn't fit in our house! So, I just dreamed about having it in my house and climbing all over it and stuff. It made me think of the condos in
Kitty City
. And
that
made me think of my
Sweet Izzy
who is going to be my wink-wink! Oh I'm such a happy poodie tat!
Me checkin' out a kitty condo!
Click HERE to go to the most current post.