Lovin' Mommy
I was reading about
Jinky
and how he gets lots of lovin' from his beans and decided to show you how I get my lovins...
Mommy picks me up and I give her a hug! I always put my head on her shoulder and do a stinky rub on her neck. In this picture, she has her hair up...but usually I stick my head under her hair and purr real loud in her ear. Mommy says it tickles a'cause of my whiskers. She pets me and I give her some real good bread-n-butter action on her shoulders.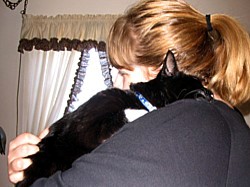 What Mommy doesn't know is that I have a secret motive to my lovins. See, when she picks me up, I can see
Tangie
all good a'cause his jail cell hangs from the ceiling. So I hug Mommy and then she starts to rock back and forth and when I get the chance, I stick my paw out and grab onto Tangie! Hee-hee! Don't tell Mommy I do this though, she won't give me lovins anymore if she knew that I had a secret motive!
Click HERE to go to the most current post.