The view from up here...
Lotsa poodies and their beans have been telling me that my coat is real shiny. I want to say thank you for those nice compliments! My fur is very shiny and Mommy says it's a'cause I eat good food that's healthy for me. She says that my bath (which I hate) helps a lot too. I get a bath every month or two. Oh! And Gramma says when I put my stinky rub on her legs, she says that I'm real soft and silky! Pretty nice huh?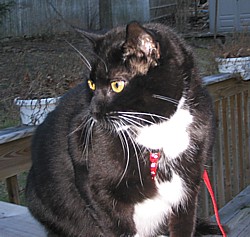 Here I am out in the backyard this afternoon. It was pretty chilly but I didn't care! I was happy I could go out on the deck a'cause it's been covered with snow for soooo long! I made a little comment about my visit on my
wildlife watch blog.
Click HERE to go to the most current post.