Prrride & Prrredjudice
Mommy and I like to watch the talking box together. Over the weekend, Mommy worked on her poncho that she's knitting with those silly sticks of hers. So, she wanted a nice long movie to watch. Hence, Prrride and Prrredjudice!
Here's my dilemma... I've discussed this with
Muddy
already... Mommy says that Mr. Darcy is her favorite, in fact, she says he's quite handsome indeed.
I
am handsome indeed!!! Who does this Mr. Darcy think he is?! Handsome...Hmpf!! I think I'm gonna go sulk.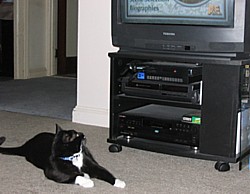 Click HERE to go to the most current post.