The birdwatcher.
I have been watching birdies ever since I came to live here with Mommy and Gramma. I love it! It's more than a hobby for me...I take it very seriously a'cause ya never know what those sneaky little birdies are gonna do! I'm a
Wildlife Inspector
for
Catifornia
and I know all the good spots for watchin' birdies in our house! There's my perch which of course is still the best a'cause the feeder is right outside my window...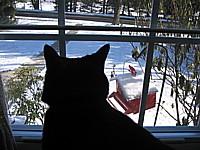 Then, there's Gramma's bedroom. She leaves the window open a crack so that I can smell the fresh air and watch the birdies in the backyard...
But my favorite aside from these two places is in Mommy's bedroom. There's a box that blows cold air in the summer stuck into the window. The birdies like to sit on top of it and I can hear their toes doin' a tap dance on there so I jump up onto the cabinet that Mommy has next to it. I creep up to the window and with my paw, I pull back the curtain just enough to peek out at them. When they're not looking, I slap the window real hard with my hands and send those birdies flyin'! LOL!! It's great fun!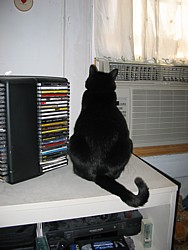 Click HERE to go to the most current post.