Guitar Lessons
Mommy told me that Valentine's Day is coming up and she wanted to know what I was going to do for my
Sweet Izzy
. I didn't know what to tell her a'cause I didn't know what Valentine's Day was! I humbled myself and asked her and she said it's a day when beans celebrate
l
o
v
e
. What a holiday! So I am thinking that I want to do somethin' real special for her so I thought maybe...I would write her a song!
I've seen my big brudder
Sheriff Jinky
playin' the guitar and thought if I could learn how to play, I would write her a nice song on it! But it's real confusing. I don't understand how the music can come out of the middle like that. If you put stinky rub on the strings, they sing! I tried to play the guitar like I saw Mommy do, and like I see Jinky do but it takes talent and skill so I think...Jinky is way more talented at the guitar than I am a'cause he knows how to play better than me. I know my limitations and the guitar is one of them! So, I think I will continue to search for the purrfect gift for my Sweet Izzy...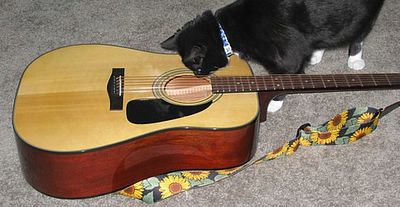 Where does the music come from again?
Jinky playin' his bean Mommy's guitar
Click HERE to go to the most current post.