Mommy went to Miss Eleanor's house today. She heard that Miss Eleanor was pet-sitting lots and lots of birdies! Yummy Nummy! Mommy said I wasn't allowed to go a'cause I would wanna eat the birdies just like I try to eat
Tangie
and also a'cause it was very cold outside. She said it was only 16 degrees at lunch! Wow that's cold!!
When Mommy got to Miss Eleanor's house, she heard all the birdies singing. She went inside and found that not only were there somethin' like 40 different kinds of birdies but there was also a bunny! Oh why couldn't I have gone with her?!?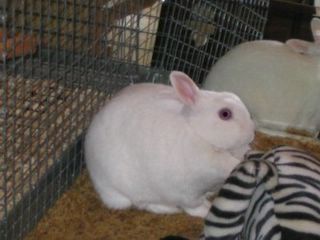 ymmmm fuzzy...
Click HERE to go to the most current post.