I found a buggie!
I'm a happy poodie.
The weather is nice & warm outside and Mommy promised if it stays nice, I can go out on the deck again! But that's not what's got me all 'cited. I found this little buggie walking across the living room floor! I checked him out real close and sniffed him lots. I put my paw on him but I don't think he liked it very much. When I let go, he tried to run away from me.
Mommy says I'm real good at protecting her from this buggie a'cause I keep pushing him away from her. I haven't taken my eyes off of him yet! Well, I'm writing this but truly, I know right where he is and I'm not lettin' him outta my sight!
Wanna know why this buggie makes me so happy? A'cause buggies hide when the weather is cold but when it gets warm out, they come out and that means Spring must be coming! Oh I sure hope that it comes soon! That way, I can sit out on the deck with Gramma and Mommy and sniff the good air again :)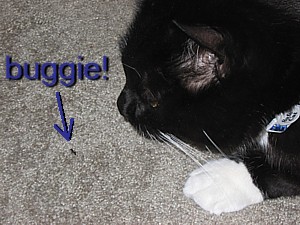 Click HERE to go to the most current post.