Isn't she lovely?
I was reading some of
CatUSA Today's
latest publications when I was taken back by the most loveliest sights I've ever seen...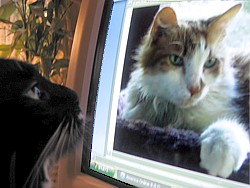 I couldn't contain myself! I jumped into Mommy's lap and stared in awe at my
Sweet Izzy
. She's just so pretty! I sawed her sweet paw and wanted to pretend we was holding paws together...
Cursed is this distance between us!
Ah but soon, yes, soon we shall be wink-winks and forevermore be united! Purr
rr
rr...
Click HERE to go to the most current post.