Caught!
Mommy caught me being fresh. I was taking a quiet nappie on my flower chair a'cause the pillow was on it. I like that pillow a'cause it makes everything all soft and squishy. I do bread-n-butter on it a'fore I take my nappie and it's so nice!
Well, Mommy came along and taked my picture. I told her to leave me alone but she insisted...something 'bout wanting to 'xperiment with her camera...I dunno. I got all upset a'cause I was takin' a nappie! You'd get upset too if you were sleepin' all nice on the soft and squishy pillow only to be awakened by a flashing box.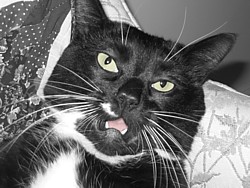 Anyway, here I am being all fresh a'cause I was upset that Mommy wanted to take my picture. Mommy says she wanted to make a picture of me in only black and white and then color certain parts in. Umm...doesn't she know that I'm black and white?
Every
picture she takes of me is black and white!! SHEESH!!
Click HERE to go to the most current post.