Chilly, Rainy Spring Day
What a difference a few months make!
I can't even believe how much snow stuff we got this past winter! But look! Look!! That snow stuff am all gone now and the beautiful trees are all happy with different colors :) But today it am all chilly and cold.
I begged and begged Mommy to go bye-bye (out on the deck) and she gave in! As soon as I got out there, I realized why she kept saying that I wasn't going to like it today. It was all way chilly almost like it was in winter! Well, shmaybe not that chilly but that monster in the basement was growling and the gladiator that is next to my perch am all warm and making hot come up and touch my toes. Then, the sky started crying and gotted my fur wet so I begged and begged Mommy to go back in the house and she gave in. But not a'fore she taked these pictures of some fancy flowers in the backyard over by Chucky the woodchuck's house: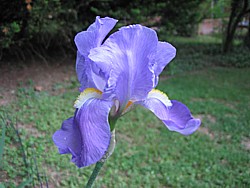 This am a purple iris. My Auntie Deb
loves
iris and when she used to live here, she planted these and they make my Mommy think of her every year when they bloom.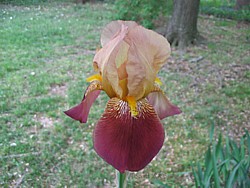 Here's another iris! This one has different colors! Know what? Mommy says it sorta smells like root beer! (Psst...what's root beer?!?!)
All these flowers are so pretty! They remind me of something else that's really pretty. My
Sweet Izzy
. Oh I think she's better than any flower in the garden. If only we lived closer to each other...I could give her a big purr and a lick
♥
Alas...my wink-wink lives in a
far away land
. I am left to be with her in my dreams...
Click HERE to go to the most current post.