My Biggest Adventure Yet!
Today started out like every day. Wet food...watch some birdies at the window...wait for Mommy to wake up and get some scritchies...but then, I knew something was different. Mommy put my outside leash on way too early in the morning. She let me walk around the house in it and then at 9:00, she taked me out to the monster with wheels and off we went!
She told me we were going to visit Miss Eleanor, Mommy's friend. She said I had to be extra good and not get into mischief. I hate it when she says that. I never get into mischief!! So anyway, we got to her house and she taked me inside. Then, she let me off the leash and I went sniffin' around the house. First, I checked out the bedroom:
Miss Eleanor has the same bed as Mommy! Only, I can't fit under hers a'cause there's a big piece of wood all the way around the bottom. I knew I'd have to find another place to hide... So, I checked out the living room. Know what? She has a big chair in there! It's really long!! Mommy and me both sat on it without touching each other!
Then, I sawed this room that had all sorts of aminals in it. I climbed up on the long chair and posed. Can you figure out which one is me??
Then, I heard lots of birdies and had to go find out where they were! I sawed them in the window and Miss Eleanor said that I was allowed to go up there to see them! I stood on that box that makes music and kept opening the top with my paw ;)
After that, I sawed a big box on the floor and just had to get in it!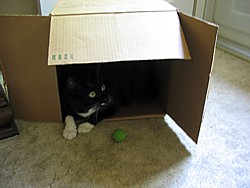 There was a green go-get-it ball that Miss Eleanor gave me to play with! It's all soft and squishy like the ones at my house and the ones that my Catifornian friends gave me!
Oh! There was this poodie that lives there. It was sleepin' in the chair the whole entire day! I was so amazed at how still it was! Shmaybe it was ignoring me??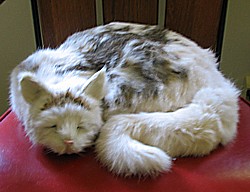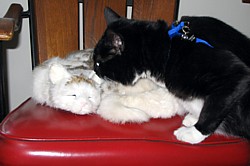 I was at Miss Eleanor's house most of the day. I went hiding for most of it but came out and visited every now and then. I didn't really use this portable loo that Mommy got for me but it was sure nice of her to try to make me feel ok while I was there!
I was with Mommy when she got that loo. It was all small and had litter in it already. All she had to do was pop up the top and pour in the litter and it was good to go! But...I prefer my own loo and held out all day for it.
Once Mommy came to get me around 6:00, I was really enjoying myself and didn't want to go home just yet so I ran and hid in the closet in Miss Eleanor's bedroom ;) Mommy was none too pleased but I thought it was a fun game! She took me out and got all my stuff together and I said my goodbyes to Miss Eleanor. I like her a lot. Her house is all way cool and there's lotsa places for me to investigate in there. I hope I get to visit there again!
On the way home, Mommy taked me to the lake near our house to watch the birdies and doggies and beans that walk around. It was all 'laxing and stuff and made me feel calm. I saw really cute birdies there but you'll have to check out my wildlife watch for that report!
When we got home, I noticed a funny smell in the air. Tangie was missing and stuff was all over the dining room table! It was all real strange! But what was really strange was when I peeked into the bathroom! Look! Look at what happened!!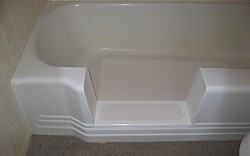 The tub am missing it's middle! It's a totally big mystery! I don't know what happened to it but this morning, it was there and now it isn't! It must've went away while I was at Miss Eleanor's house! I tell you what...a poodie's work is never done. If you don't keep an eye on everything, it will disappear! I'll have to check into this tub thing. I dunno what to make of it yet.
Click HERE to go to the most current post.