All Dolled Up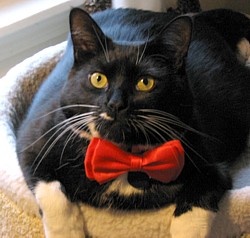 Today am my Mommy's purrthday! She am very old now. There's a new number in the front and she's not too pleased 'bout it. So, I got all dolled up for the day to make her feel all happy inside! Know what? It worked!! Here I am in my window perch. I was watchin' the birdies have morning seed when Mommy asked me to pose pretty. So...I did! See my nice red tie? It matches my collar! I've been running through the house since Mommy got up. One of our neighbors came over with some carrot soup and cake and brownies for Mommy's purrthday. It all smelled real nice! But the soup was really interesting...a'cause it am bright orange! Mommy said it tastes real good and she am gonna have some for lunch :) She says that Beth am a real good cook and is famous in church for her healthy yummy foods. When she came in, she gave me a nice pet and I showed her my LONG whiskers!
I read some of my poodie friend's comments yesterday and decided not to bother Mommy while she was sleeping this morning. I stayed real quiet like and didn't even purr or give her my famous 5:30 a.m. massage. I found a nice hair tie on the floor that I hid a long time ago and played with that. Mommy went to a party last night with a bunch of teachers she knew from her old job. She gotted some real yummy flowers for her purrthday from them! I smelled em and man, they're goooood! She had to put them outside a'cause she said I had that look in my eye like I was gonna have somethin' good to eat...
Gramma and My Auntie Deb gave Mommy some new charms for her bracelet. She loves it so much that she wears it every day! See? There am all sorts of stuff on it that she likes! But her new ones are the rainbow, the one that says Sister from Auntie Deb. I don't understand why Auntie Deb didn't get one that says Auntie though... And on the bottom, there is that big white one. It am real neat a'cause it changes into a dark pink when the sun thing shines on it. The last two are new too! One is Mommy's favorite picture called "Starry Night" and of course, the #24 is Jeff Gordon the racing bean's number. My favorite is the two on the middle row. See them? One looks just like me and next to it is Tigger!! Mommy wears them all in a row on her wrist every day.
Tonight, Auntie Jo am comin' over and she's gonna celebrate Mommy's purrthday with us! Oh it's gonna be so much fun! I can't stop racin' through the house a'cause I know somethin' special am goin' on...it's my Mommy's purrthday!!!!
Click HERE to go to the most current post.