The Stealth Bomber Strikes Again...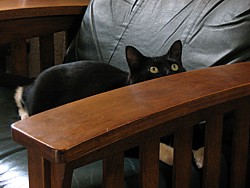 Here I am bein' all stealth.
Tangie
was taking an early morning bath after his breakfast of morning eggie. Oh my poodie friends, do you know how I love this?! Sometimes he gets his cage to turn and the bathtub will come my way. I can watch him jump in and out of the tub! It's SO exciting!!!! But, I was all stealth and made sure he didn't see me watching him.
Shmaybe that's why Mommy calls me Peeping Tom a'cause I watch her while she's in the bathtub too! I peek around the curtain at her. It's not a'cause I'm a sick poodie, I just wanna know what's goin' on in there!
After watching Tangie take his third bath, I got all tired out and fell asleep. Mommy thought you might like to see how I fell asleep:
Click HERE to go to the most current post.