A Daffy for K.C.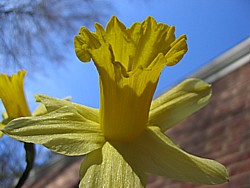 I went for a little walk with Mommy around the backyard and came across this flower! It survived the big bad deer's appetite! Methinks it's a'cause they don't like daffodils. It am smells sooo yummy! But Mommy said not to eat it. So I asked her to take a picture of it for
K.C.'s Bug & Plant Museum &Stuff
! He has all sorts of buggies in his museum and had a'cided to put some flowers and stuff in there too! I can't figure out what kinda flower he's got on there but I'm gonna do some research and see if I can find out! I likes to do 'vestigations that are so mysterious! Shmaybe someone else will figure it out. I think shmaybe
Merlin, KoKo and Shadow
will figure it out first...just a'cause it looks like a flower that would be by their house...
Click HERE to go to the most current post.