Go Speed Racer Go!
How can I think of ending the day without a quick note about what went down in our house this afternoon...
Mommy camed home from church where her beans sang all nice when she waved her hands at them...then, she got all comfy in the leather chair and watched those monsters with wheels running around and around! Guess what? I ran around and around too! She wasn't very impressed but I think I had my all-time best record for how quick I made it from the kitchen to her bedroom! Vrrom-Vroom!
Know what? She and Gramma were staring at the talking box and were all nervous about something. I looked and saw a whole bunch of those monsters run into one another...ouch! But know what? Know WHAT?! Mommy's favorite bean didn't get hurted at all! In fact, he am won that race!! Yeah!! Oh it was all 'citing a'cause Mommy jumped up and made a
wahoo
noise (which I didn't appreciate). But, I knew that it meant she was all happy! And well, that makes me happy too...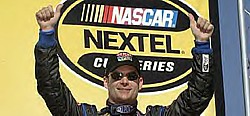 Tonight, I plan on showing her that I can take that Jeff Gordon on anyday! I bet he doesn't know how to hug the sharp turns in the house like I do! I bet he can't run real fast up and down the stairs like lightning! But, he's all way good at makin' that monster with wheels hug the turns on that racetrack! Go Speed Racer Go!
Click HERE to go to the most current post.