Pet Perks!
Yesterday, Mommy and I went in the monster with wheels! And I bet you can guess where we went! Well, maybe not...but we went to PETsMART! Oh I always love to visit that store. Mommy and I went alone with nobody else in the monster with wheels. She said I was a very good boy and know what? I was :)
She makes a loopy thing with my leash and sticks it around the top of the chair I sit on so that I don't get in trouble. She says there's little pedals that only beans can touch and she didn't want me touching them. So, that's where I usually sit. That way, I can look out all the windows! The trees always go by real fast and sometimes I see doggies with their beans :) It's great fun!
Today, I wanted Mommy to open the window so I could stick my nose out and pretend to be a doggie. I sat up with my front legs on the handle and meowed real loud. I turned back and looked at her and then pawed the window. She opened it enough for me to sniff the good fresh air and my friends, it was divine! When we gotted to PETsMART, I waited until Mommy was ready to leave and then let her pick me up. Right outside the monster with wheels was a shopping cart thing. I gotted in the big part and scrambled up under the part that hides me. I made myself look like a pancake until we gotted in the store. I don't like all the scary monsters with wheels that live out there so I hide. It doesn't make me a wimp. Just a smart cat! Once inside, I gotted out and climbed into the top part where Mommy pushes.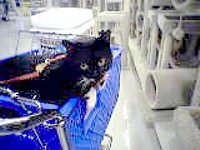 This is where I usually sit a'cause that way, I can see everything all good and give Mommy some head rubs while she pushes.
We went all over the store! I gotted some new fancy feast and some soccer balls to play with until the bureau in Gramma's room eats them up. We didn't need to buy so much stuff this time but Mommy said it was a nice day for shopping so that's why we went :) We went down one of the aisles and I sawed something I wanted so I meowed real loud (I don't meow unless absolutely necessary). It was Whisker Lickens' Temptations! Turkey Flavor!! I love those yummy treatsies and recognized the bag so when I saw them, I meowed to Mommy and she said they were turkey so she gotted them for me a'cause she knows I like turkey lots! I never had them a'fore but poodies, they am really really good!
Mommy took me for a treat for being such a good boy...I got to see the fish pond and know what? There were fishies swimmin' in there! I could see them! Then, she rode me over to the birdies and I sat and watched them for a little while. A bean camed and asked if we needed help but Mommy said she was just giving me eye candy. What's eye candy? A birdie!? Oh I'd love a birdie!! yum....
Anyway, when we were almost ready to leave, a little bean inside a stroller camed and looked at me. I haven't seen one that little a'fore. He was all cute snuggled in there and when he sawed me, he laughed really hard and said "Kitty!" in a big loud voice as he pointed at me. That made me purr a'cause he was wicked cute! His Mommy said he am learning to talk. I'm glad he knows what a kitty is! Then, his Mommy took him to see the kitties that live behind the glass wall. My Mommy did the same. We sawed so many beautiful poodies who still are waiting for their forever homes in there. One took a strong liking to me and rolled over on her back and pawed at the glass. She tried to rub up against me but that glass wall was in the way. There was a tuxedo kitty that chittered at me and when she looked at me, she tried to rub up against me too but that glass wall was in the way again. Don't worry my
Sweet Izzy
, none of them caught my eye like you did ♥
When we were ready to leave, Mommy noticed a bean asking people to sign up for something. Know what? She signed up for it too a'cause she said it am like a little tiny coupon that hangs out with her keys. It's called
Pet Perks
. I think it's new a'cause I've never heard of them a'fore. But know what? We am saved 90 cents off of the balls and treatsies and a dollar off the fancy feast! Good times! Mommy likes saving those little green pieces of paper when she can.
By the time we left the store, two beans had given me some real good scritchies on my chin, a few beans said hello to me and I sawed a poof on a leash wearin' a sweater and a little black pug. I gotted back into the big part of the cart thing and we went back over to the monster with wheels. I knew it was ours so I started to reach out for it. Mommy opened the side door and I jumped in all by myself! Gramma was most impressed with that :) When we camed home, I got to taste my new treatsies and man, they were wicked awesome!! I got one of my new soccer go-get-em balls to play with and then it was time for a well deserved nap!
Click HERE to go to the most current post.