A Good Snooze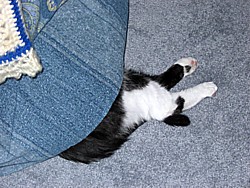 I love to sleep underneath Gramma's bed. It's all quiet and cool under there. And know what? There's this thing that hangs down all around it and makes it like a special hiding place so nobean can see me! I loves it. Sometimes I go hidey under there when the monster comes out of the closet.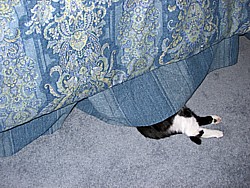 So...it's a known fact that if I can't see you, then, you can't see me. How in the world did Mommy know where I was? Was I snoring again? I know I can sound quite noisy when I snore but...I don't remember doing it! How in the world did she know I was sleepin' under Gramma's bed?!?!
Click HERE to go to the most current post.