my a'citement level = all time high!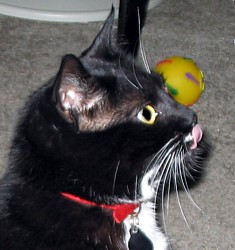 Oh my dear poodie friends, I am so very a'cited! I overheard Gramma talking on that funny white thing she calls a phone to Auntie Deb! Know what? Oh do you KNOW WHAT?! She am coming to see me! She am gonna get in the belly of a metal birdie and come here all the way from Colorado!
I just don't know what to do with myself! I don't even get this a'cited over a full bowl of crunchies, no, not even the sound of the treatsie bag being shaken gets me this a'cited...well, shmaybe it does but know what? I'm sooooo a'cited! I've only talked to my Auntie Deb on the computer so this will be the first time I get to see her in real life!
Shmaybe she will smell like my cousin Riley dog who is staying at home with my Uncle Gene... Riley, you'd better take care of the house while Auntie Deb is here! Oh I can't wait to show her all my toys! I think I'll give myself a nice bath so that I'm all shiny and soft for her! That way, she will want to pet me lots. Oh!!! I'm so very a'cited! Know what? Mommy and Gramma am too.
Click HERE to go to the most current post.