New monster in the house
Here I am investigating the new monster that came in the living room yesterday. It usually lives in the basement with Mr. Rake and the monster that makes the laundry all clean...but yesterday, it came up here. Now, it's sitting in the corner of the room and makes wind blow in the room like it does outside. I'm not real a'scared of this monster. Well, shmaybe a little when it maked a piece of paper fall down on the other side of the room but other than that, I've been real brave 'bout it.
It was
so
hot here yesterday! It went from bein' all chilly during the week to all way hot and sticky. Mommy said it was something like 82 degrees in the living room! Blech! TOO HOT! 'Specially for a hot blooded mostly black cat like myself. When I go outside, I seek shade, not sunspots. Sunspots are only good for using in the winter when it am all way cold out. The shade is the bestest thing for me during the hot months! Shade and fresh water :)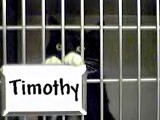 This time last year, I was living at Dr. Strazza's house a'cause I was healing from a surgery on my belly. I didn't get to enjoy the warm days of summer really. I was in "jail" at his house but it was nice. I got lotsa attention and Mommy camed to visit almost every day. I was in jail for almost two whole months! Yipes! I don't ever want to do that again!
Click HERE to go to the most current post.