Everyone should have one...
Here I am in my bensi box. I love this box so much! I have had it since my Auntie Deb was here to visit me back in June! Momma taked it up into her bedroom and put it on the floor where the nice cool air from the box in the window can blow on me while I sleep in it. At night, I like to put a little bit of teethywork on the sides. I've worked really really hard on it! Can ya tell?
Momma says she hates it when I put my teethywork on it a'cause I throw the bits all over the carpet. She can hate it all she wants. I loves to throw the little bits all over the place! I do it almost every night! Momma says if I keep it up, I won't have any more bensi box to sleep in.
Then she'll just have to go get some more "take-out" that comes in the nice bensi boxes like this one...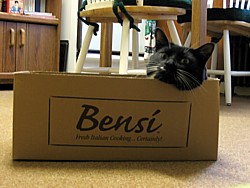 Click HERE to go to the most current post.