Biiiig Kaboomies!
Hi everybody! I couldn't come on the computer last night a'cause it wouldn't work right. We had such great big kaboomies in the sky that they maked all the lights go out and then when they camed back on, the funny thing that Gramma and Momma talk on to other beans wasn't working. The whole night! For real!! So, a'cause we use that funny thing to go on the internet, I couldn't post until today. But that's ok.
I was all brave when the big kaboomies camed. I stayed with Gramma a'cause Momma, crazy bean that she is, went out right as they started! She had to give a bean a pinano lesson. I wouldn't go out there if you paid me like 500 cans of stinky goodness. Well, shmaybe I would but I wouldn't like it so much! It rained so very hard that the streets looked like rivers and all of Momma's plants were looking at the ground. The kaboomies came one right after the other which hurt my wittle ears so I sought refuge in a box Momma put under the flower chair for me...
Gramma said I was all way cute a'cause I knew enough to go all hidey. Well, I should make it known...I wasn't all hidey a'cause of the rain and flashing lights in the sky, but the kaboomies were so loud and camed so often that I had to get away from it...
Momma says we am having funny weather a'cause of somebeans named Emily and Dennis. I thought God controlled the weather? Shmaybe Emily and Dennis did something really bad and God was upset with them? I dunno. I'm just a poodin. Anyway, when Momma camed home from her lesson, the 'torm was all over and the sun thing was back out. She founded me under the flower chair sleeping in the box and thought I looked just like Yoda...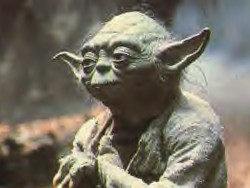 A good impression of Yoda I do make...
Click HERE to go to the most current post.