A Grand Day Out
Going over to visit Gramma is becoming one of my favoritest things to do! Look at how comfy I can make myself :) Gramma's bed am all soft and squishy...and pink just like my little pink sock!! I like this bed a'cause it am my Gramma's bed. I think it's a'cause it smells like my Gramma and I love her very much ♥
A'member I said there was a doggie in the room with Gramma? I was right! Gramma's roommate has a pug named Buddy and know what? He camed to visit her once. I know a'cause I smelled it on Momma's hand. Thank goodness I didn't go to visit that day!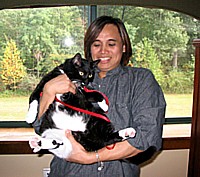 When Momma and I got to her room, Gramma wasn't there...she was getting her hair done! So, I got to sit in the window and watch the birdies outside until Gramma camed back. When she did, I surprised her :) Guess what?! I got to see one of my favoritest beans that works where Gramma is...Jojo! I really like Jojo a'cause he likes poodins and has one of his own! Usually, he says hello to me when we first walk in, but he helped Gramma back in to the room and got to pick me up and hug me! Look at how silly I look! LOL!!
Oh but the most bestest part of the entire day (aside from being hugged by Jojo and getting to see birdies out the window) was when my Gramma gived me chin scritchies. She does a really good job at it and it maked my eyes go closed. I love chin scritchies...'specially when they're given to me by my Gramma. Pur
r
r...
Click HERE to go to the most current post.