A Grammie does a poodin' good
Here I am visiting my Gramma :) Her hurty shoulder still am hurty so she couldn't hold me real good a'cause I'm a big boy. But that's ok a'cause I loves my Gramma and she can do anything she wants to me :) I maked meow sounds when I sawed her this time! And, I played octopus on her bed which was lotsa fun! Oh and I put stinky rub all over her wheelychair! She has a new roomate who has a doggie up on top of her talking box. Shmaybe Momma can sneak a picture of it sometime. It looks so real that at first, I thought it was!
I'm gettin' real comfy when I go to visit Gramma. The noises don't make me a'scared anymore and the nurses can even come in the room without me going all hidey under the bed! Aren't you prrroud of me? I'm a brave poodin! Know what? Know WHAT?! Gramma has a GREAT BIG WINDOW that I can go wildlife watching out of!! Yeah! And know what else?! She am facing the back of the building so there's just a great big lawn with a forest on the other side so lotsa different aminals are out there! I sawed some aminals that I might have to document later on so don't be surprised if you see the
wildlife watch
updated real soon!
Today, Gramma gotted to eat her dinner outside in the warm sun :) It was real nice out there with the good fresh air blowin' on us real soft like... Momma wasn't around much today so it was nice that we gotted to go visit Gramma in the afternoon.
Momma singed with
Miss Bethany
in a memorial concert today. They know how to make their voices go all high and make doggies cry in far off countries! What's that? Oh...Momma just tolded me I was fibbin' about that last part. But I don't know what fibbin' means... Miss Bethany gived Momma a funny gift from Canada that maked Momma do laughies, and I ended up
really
liking the gift... but I'll save that for another post ;)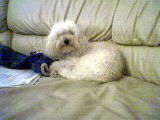 Miss Bethany has a doggie that I tolded you about once... Her name is Kittie. Isn't that a silly name for a doggie?! LOL!! I think so! Momma says that I'm much bigger and heavier than Kittie. But she said that Kittie was a good woofie and she gived her lots of scritchies on her head and back. Kittie reminds me a little of
Chloe
, that doggie that camed over my house not too long ago.
Click HERE to go to the most current post.